The Lamborghini Gallardo Spyder -
"The World's Most Beautiful Car 2005" among sportscars
After its recent launch at the Frankfurt Motor Show, the Lamborghini
Gallardo Spyder has been named as "The World's Most Beautiful Car 2005" among sportscars category.
The Gallardo Spyder was selected by an international jury - made up of
designers, car and art historians, and specialist journalists - which
gathered in Milan in the Trivulziana Library of the Castello Sforzesco.

With a score of 13 points, the Gallardo Spyder won its award as the
world's most beautiful sportscar.

The new Gallardo Spyder combines, with exclusive style, the three main
characteristics of Automobili Lamborghini: extreme, uncompromising
and Italian. These values have made Automobili Lamborghini very
successful throughout the world.

Equipped with 4961cc, 10 cylinder engine with 520 hp (382 kW), the
Lamborghini Gallardo Spyder reaches a top speed of 314 km/h and
accelerates from 0 to 100 km/h in 4.3 seconds.

The award will be handed over on 3rd March, 2006 on the
occasion of the Milan Triennale.

This is not the first time that Automobili Lamborghini has won one of the
prestigious "The World's Most Beautiful Car" awards. In 2004 the award was
won by the Murciélago Roadster, while in 2003 it was given to the
Gallardo. And in 2001 the first of Lamborghini's new model range, the
Murciélago, received a "Special Award".
The new era of Automobili Lamborghini began in 1998, when the
company was acquired by AUDI AG.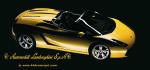 Sant'Agata Bolognese, 25th October 2004