assembly line by the Lamborghini employees who contributed to its
production, by Stephan Winkelmann, President and CEO of Automobili
Lamborghini S.p.A., and by Klaus-Peter Körner, the Plant Director.
"We are very proud, because we achieved this new record in only twenty-four
months", said Stephan Winkelmann.
Equipped with 4961cc, 10-cylinder engine with 520 hp (382 kW), the
Lamborghini Gallardo reaches a top speed of 315 km/h and accelerates from 0
to 100 km/h in 4.0 seconds.
Pictured : Stephan Winkelmann, President and CEO
Klaus-Peter Körner, Plant Director
Assembly line employees
Gallardo number 3000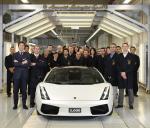 Sant'Agata Bolognese, 10th November 2005