Lamborghini St. Moritz 2010
Over 100 Lamborghini cars past and present, and their drivers, gathered in Switzerland this weekend, 18 to 20 June, in a dynamic celebration of the marque. Owners from across the world joined ?Lamborghini St. Moritz 2010?, supported by Lamborghini dealerships and clubs, to celebrate the House of the Raging Bull with a driving programme that included a route through the scenic Julierpass and Fluelapass to Davos.
Among the guests of honour was a Lamborghini Gallardo police car, provided by the Polizia di Stato (Italian State Police), which joined the rally of cars and international guests from countries including Italy, Germany, Austria, Luxembourg, France and as far afield as India and Hong Kong.
Bystanders and guests were thrilled by the sound, colour and presence of the 100-plus Lamborghini cars in the mountains. At least one of every current Lamborghini model was present, including the most recently launched Lamborghini Gallardo LP 570-4 Superleggera that led the road tour in convoy out of St. Moritz. This ?super light? V10 Gallardo was first shown at Geneva Auto Salon earlier this year: 70 kg lighter than the already lean Lamborghini Gallardo LP 560-4, with a 0-100 km/h acceleration of 3.4 seconds and a top speed of 325 km/h. A number of historical models were also in attendance, including the very special Lamborghini Miura Jota from the 1973 in stunning red Rosso Granada, and one of the earliest cars joining the event: a Lamborghini Jalpa from the 1980s.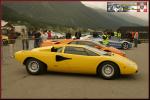 d'autres photos , un clic sur l'image: