INTEL AND AUTOMOBILI LAMBORGHINI:
A WINNING COMBINATION OF TECHNOLOGY AND STYLE
Intel Corporation, the world's largest chip maker and a leading manufacturer of computer, networking and communications products, and Automobili Lamborghini, a leading Italian automotive constructor, today announced that the two companies will be collaborating on a number of projects.
The two companies, both recognized leaders in their respective industries, share values such as innovation, passion and attention to customer demands, as well as making quality and reliability their key differentiators.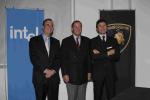 One of the planned initiatives resulting from this collaboration between Intel and Automobili Lamborghini is a new Lamborghini branded laptop PC, based on the next generation of Intel® Centrino® mobile technology (codenamed Napa), which will be launched in the first quarter of 2006. The first Lamborghini notebooks will become available for all fans of the Lamborghini brand in 2006.
Intel Corporation's CEO and President Paul S. Otellini is particularly proud to meet with Italian Companies such as Lamborghini because it has been able to advance to one of the best "Made in Italy" brands in the world thanks to the wise and savvy use of Intel technology. Lamborghini uses Intel technology based workstations and servers inside their technical development center as well as notebook PCs and hand-held devices.
"Intel and Lamborghini are synonymous with excellence," said Paul Otellini, CEO of Intel Corporation. "Intel applauds Lamborghini for its use of our technology in all phases of development of its world class automobiles. We are proud to be extending our collaboration around Intel Centrino mobile technology through the Lamborghini laptop project."
With Italy being one of the highly mobile markets in Europe, the success of Intel Centrino mobile technology is based on local trends like increasing notebook sales and rapid growth of Wi-Fi hotspots. For example two out of three newly sold computers in Italy are mobile PCs. Moreover, as much as 1.315 out of 1500 Italian hotspots are verified for Intel Centrino mobile technology, which tests for compatibility of wireless hotspots with common configurations of Intel Centrino mobile technology.
"In order to offer our demanding customers the high performance and safety which our super-cars are well-known for, we had to choose the best technological ally, and Intel has showed they can meet our needs at best," added Stephan Winkelmann, CEO and President of Automobili Lamborghini. "Both our brands are synonyms for quality and reliability and that's why we think the combination of the two will be a winning one."
Thanks to the collaboration with Intel and the use of its solutions, the Lamborghini experts can carry out quality checks on the cars and make settings by giving the on-board software instructions directly from their Intel® XScale® technology equipped hand held devices. This is only one example how Intel technology has helped increase efficiency in the product development process of Automobili Lamborghini.
"The choice of equipping our engineers with Intel® XScale® hand held devices addresses the specific need to make their work simpler and more effective thanks to tools which offer high levels of portability, reliability and performance," confirms Stephan Winkelmann.

Intel, the world's largest chip maker, is also a leading manufacturer of computer, networking and communications products.


* Other names and brands may be claimed as the property of others. Intel is a mark or registered trademark of Intel Corporation or its subsidiaries in the United States and other countries.