Lamborghini stars in the " Columbus Day" parade this year, too.
The Lamborghini logo, its cars and representatives played a key role in the 2005
edition of the "Columbus Day" parade, as it did in 2004. This traditional event is
organised each year in New York by the Columbus Citizen Foundation to
celebrate the talent and contribution of Italian-Americans to the United States.
Now in its 61st year, the parade unfolded down Fifth Avenue. This year chairman
of the 'House of the Bull', Stephan Winkelmann, took part as well. He shared
the experience of this unforgettable event with important personalities from the
Italian-American world of politics, business, sport and showbusiness, and also
with Italian political and institutional representatives.


Serving as Grand Marshall of the event this year was U.S. Supreme Court Judge
Antonin Scalia, who opened the parade aboard a gold Lamborghini Murciélago
Roadster. Automobili Lamborghini sent this car to New York especially for this
occasion.


Many Lamborghinis from past and present served as the event's maids of honour.
Models ranging from the 350 GT and Miura SV to the Countach and Diablo, and
even the gigantic LM - all owned by Italian-American customers or by
Lamborghini - were on view. The Gallardo and Murciélago, Lamborghini's
current models, were also on display at New York's Grand Central Station.

There were also several prestigious models from Audi, Automobili Lamborghini's
parent company, which were made available to transport several leading personalities.

Two magnificent blue and white Gallardos were paraded this year as well
Owned by the Italian State Police, they took part in the event with the police
force's top officers and a delegation.


The presence of Automobili Lamborghini at the 2005 "Columbus Day" parade,
as requested once again by the event's organisers, is evidence of Italian culture
and technology in the USA. A reflection of the distinguishing traits of the
"House of the Bull", whose major market is the United States: extreme without
compromise, and unquestionably Italian.

"It is the first time that I have taken part in an event of this kind, and I was truly
impressed by the enthusiasm with which Italians a nd Americans celebrate this
festivity," said Winkelmann. "It really was a special experience for me."
The President and CEO of Automobili Lamborghini Stephan Winkelmann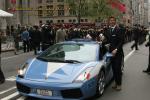 The Vice-President of the European Commission Franco Frattini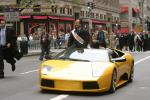 Sant'Agata Bolognese, 14th October 2005